InSoc History: 1993 - Present; "The New Days"
The New Days are, in my mind, the time since I moved InSoc to San Francisco and started working on "Don't Be Afraid.
InSoc AS A SAN-FRANCISCO GOTH / INDUSTRIAL ACT.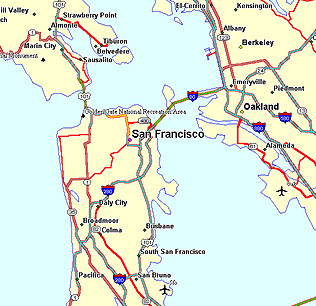 I've received many requests for an explanation of the change in InSoc between the last Tommy Boy release and "Don't Be Afraid". The reason I have trouble answering is that I never "decided to change". The music on DBA is pretty much what I've always done on my own. The songs of mine on our previous albums were my attempt to go with Paul/Tommy Boy's direction. I was able to do it, but not as well as Paul. It never came naturally. I think the only songs I did in a very "pop" style that worked out well were "Come With Me" and "Strength" (which was never on an album although it did appear on the single of "Going Going, Gone".)
I had been doing music like this for a long time, but never very well. Take this excerpt from a 1986 instrumental of mine, for example. It was only in about 1990 that I started to get the hang of actually turning my ideas into decent songs. (A trick that Paul had mastered by about 1981) At first, it was just instrumentals like "SEEK200" and "Hard Currency". But by '92, I had begun to be able to put it all together into songs like "Closing In 1.0". It was clear to me that these songs would never fit into what Paul and I had been doing on Tommy Boy, so I planned for starting my own project. Instead, I got to take Information Society with me.
Don't Be Afraid, therefore, is not so much a change of styles as it is just what I would have been doing all along anyway.


HERE is an interview I did around this time.

In June of 1993, I moved to San Francisco with no bandmates, no label, and no manager.


Here,
here,
and most importantly, HERE,
are pictures from my porch.


Information Society was widely regarded in the music industry as washed-up. More importantly, they realized that our first album had gone platinum, and our second and third albums hadn't. It really would have been better if the first album hadn't done so well.
I succeeded in acquiring a good manager, Donnie Graves, in Los Angeles. He set to work on getting a new label, while I started developing material for a new album. Within 9 months, Donnie had been turned down by nearly every medium-to-large label in the country. Everyone thought that the old material was dated and the new material was just weird. ("Angels splattered on the road", indeed!). By the middle of '94, it was clear to me that this was going to be a VERY long process, and I set about expanding my career to include something that actually paid the rent in a somewhat reliable fashion: music for video games, like X-Men 2 and BALLZ3DO. In many ways, the game work gives me as much of a feeling of accomplishment as the album. (I've been a video game addict since 1977) I had a reasonable body of work in Donnie's hands, and I stopped working on new material to work on game music, trusting that the new album would eventually come together.


Throughout this period, Jeri Beck of Houston, Texas maintained what started as an InSoc user's group (so to speak) and eventually became a synth-pop genre organization called "Control-Alt-Delete" C-A-D put out (at least) 3 compilation CD's; CatComp 1, CatComp 2, and CatScan.

By January of '96, it had become apparent to me that if I was going to get signed, I was going to have to make the album first and use it to GET signed. At that time an opportunity came up to do some shows in Brasil. I spent 6 weeks in Brasil in the spring of '96 and used the money to make Don't Be Afraid.
As I was working on the album with Steve Seibold, Cleopatra records of Los Angeles expressed interest in picking up the new album. They released an advance promo single of "Are 'Friends' Electric?" in January of '97.

The album came out in September of '97.

HERE,
HERE,
HERE,
HERE,
HERE,
HERE and
HERE are a bunch of interviews I did around this time. (Note the simlilarity. Thank god for e-mail!)

In October of '96, InSoc.org was activated. Since then, I've used it to let people know what was going on with the new album, and to provide people with a way to find out more about the history of the band. In January of '98, this new site went up.

To find out what's happening now, go to the News section of the site.

.

.

.

.

.

.

.

.

.

.

.

.

.

.

.

.

.