InSoc History: 1988 - 1993; "The Middle Days"
The Middle Days are, in my mind, the times between when our first album came out on Warner Bros./Tommy Boy, and when Paul left the band and I changed labels and style.
InSoc AS A NEW-YORK-BASED NATIONAL BAND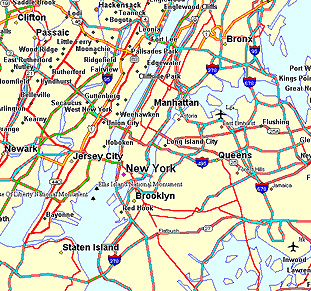 Nothing, absolutely nothing, could have prepared us for the strange phenomenon of fame. Luckily for us, we only had a little fame, and it wasn't too overwhelming. (I can't imagine what people like Madonna and Steven Tyler have to deal with) I remember the exact moment at which it became weird.
Amanda and I were walking out of a Target store in Dallas. A couple walked by us heading into the store. One of them was staring at us, and he said "Hey! You're those guys from MTV! That Pure Energy song!"
It was the first experience of that type either of us had ever had, and it was bizarre. They knew who we were, and we didn't know who they were. That is always a disconcerting situation, but even moreso here because there was no connection between us and these people that would explain how they knew who we were. It was as though we were marked, like Cain. Here is a cartoon I drew making fun of myself in this situation.

What's On Your Mind surpassed Running by a wide margin. No one, not us, not our management, not anyone at Tommy Boy or Warner/Reprise really expected this song to be a success. It had been suggested more than once that if the HAD been prepared, the song would have topped out at a strong #1 on the charts instead of #3. Who knows. Point is, What's On Your Mind propelled Information Society in 3 months from an essentially unknown "underground" band to the front lines of the entertainment industry machine's war against humanity. (Well... maybe not all that, but you know what I mean.) It was a confusing and difficult time for us. We were expected to provide a live show and a public presence that met people's expectations for a "national act", but we were still poor young midwestern hipsters who thought $400 a week was living large. Our live show had been crippled by 3 years of track shows. Suddenly the terms had changed, and everyone expected an 80-minute non-track show. We scrambled to meet these expectations. We made two videos in 2 months, one for "What's On Your Mind", and one for "Walking Away". That video for "What's On Your Mind" did more for our career than any other we made. MTV just loved it. It happened to look like what they wanted to look like that year, which was fortunate for us. Our Director, Mark Pellington, knew what MTV wanted to look like because he worked with them a lot on other things. The show "Buzz" was his creation.

HERE,
HERE,
HERE,
HERE, and
HERE are pictures from that video shoot.

It was about at this time that it came to pass that Amanda was no longer in the band. I receive numerous questions about why this happened, but I just don't discuss it because it's private. Amanda is currently married and living in the U.K. half the year, and Connecticut the other half. Over the years since 1988, she has worked on music with many other artists, including The Golden Palominos, 10,000 Maniacs and Bob Mould.

HERE, and
HERE are two interviews I did around this time.

Meanwhile, our first album quickly sold out its initial pressing and was impossible to find in the stores for a month. Within 5 months it went gold. We made another video, this time for Repetition. Here and here are more pics from that video shoot. We toured more and more, including a run in Japan, and grad nights at Disneyland, of all places, and ended up on this weird national tour called the "Club MTV Tour". Club MTV was the show that MTV made which knocked American Bandstand off the air. Same format, but less tired. Anyway, they organized this big tour with 6 bands:

Tone Loc
Was Not Was
Lisa Lisa
Paula Abdul
Information Society
Milli Vanilli


and of course, Downtown Julie Brown and the "Club MTV Dancers".

Immediately after the Club MTV Tour, we went to Brasil for the first time. Here is a Brasilian magazine article from 1991. I found it stressful working there, since everything was so different from what I was used to, but they seemed to really love us there, so it was the first in a long line of Brasilian trips that is still going on to this day.

It was about at this time that I couldn't help noticing that everything we were being drawn into by virtue of being in the top 40 chart was stuff that I couldn't relate to at all in a million years. At the time I was listening to Front 242 and Foetus and Front Line Assembly, and I was posing for pictures with Paula Abdul and getting into tiffs with Milli Vanilli. The surreal factor was maxing my instrumetation. Or something.
It was, however, a very difficult merry-go-round to get off. The labels had discovered that they could make a lot of money off us, and they wanted to thrust us into the marketing plans they already had laid. Some of us in the band were into that, and some of us weren't. It was a difficult thing to work out.
As we came down off touring for the first album and began to work on writing songs for the second, there was a lot of pressure to write songs that fit the "Top 40" mentality, and to a large extent, Paul and I tried to do that. We also allowed ourselves the luxury of recording stuff that just pleased us. (Compare How Long to SEEK200.) The problem with all this was that we didn't yet understand that when you try to fill the space being created for you rather than allowing a natural evolution of your music, you just end up falling behind everyone else and losing the interest of the labels. You also end up with a somewhat out-of-balance album.
I think HACK was a good album, and that it had some of our best songs ever. But with all the forces acting on us, I think it became somewhat fractured. There are a lot of divergent styles on this album. Some of the songs just don't go with each other. (Compare Hard Currency with Move Out.)

HERE is an interview I did around this time.

Nonetheless, HACK did well when released in the fall of 1990. Not as well as "Information Society" (the first Warner/Reprise release.) We made a video for the first single, Think. Here is some camcorder footage taken during the shoot.

Also during 1990 I did the bulk of the work on The Car, until it looked like this. In September I drove it out to central Utah and just camped out in the desert with it for a while. I guess that's really why I made it in the first place. Having it on the album cover was Paul's idea.

HERE is an interview I did around this time.

We started another large touring run in December of that year. This went on through September of 1991, and also ended up in Brasil. We tried not to tour too long, like we did on the first album. We wanted to get back home to write new songs as soon as possible.
We started recording Peace And Love, Inc. in February of 1992. By this time we had figured out that we should just record the kind of music we wanted to record, since trying to fit the media niches was not only artistically annoying, but rarely worked anyway. I feel this third Warner/Reprise release shows that. The album as a whole is much more coherent, and the songs all stand on the own merit more. Unfortunately, but the time this album came out, both Tommy Boy and Warner Bros. had sort of lost interest.
We made a video for Peace & Love, Inc., but MTV never played it. I've included the entire video on the data CD of Don't Be Afraid. We toured again for this album in late '92 and the first half of '93. We wore the Space Pumpkin outfits. They were made of safety-orange cloth, and we had UV lights on stage to make them stand out.
HERE,
HERE,
HERE, and
HERE are pictures from that tour.


In the spring of '93, we knew that P&LI; had done less well than the other albums. We were on tour in Brasil again. Paul had been married about a year earlier, and he had just learned that he was going to be a father. Then Tommy Boy dropped us off their label. (We had planned on dropping off anyway, this made it easy.) It was clear that there was a LOT of hard work in front of us to get the band back on a new track. Paul decided he wanted to go back to college and pay attention to his family. I purchased the name "Information Society" from Paul and Jim and set about the difficult task of re-forming...

HERE is an interview I did around this time.

.

.

.

.

.

.

.

.

.

.

.

.

.

.

.

.

.

.

.

.

.

.

.

.

.